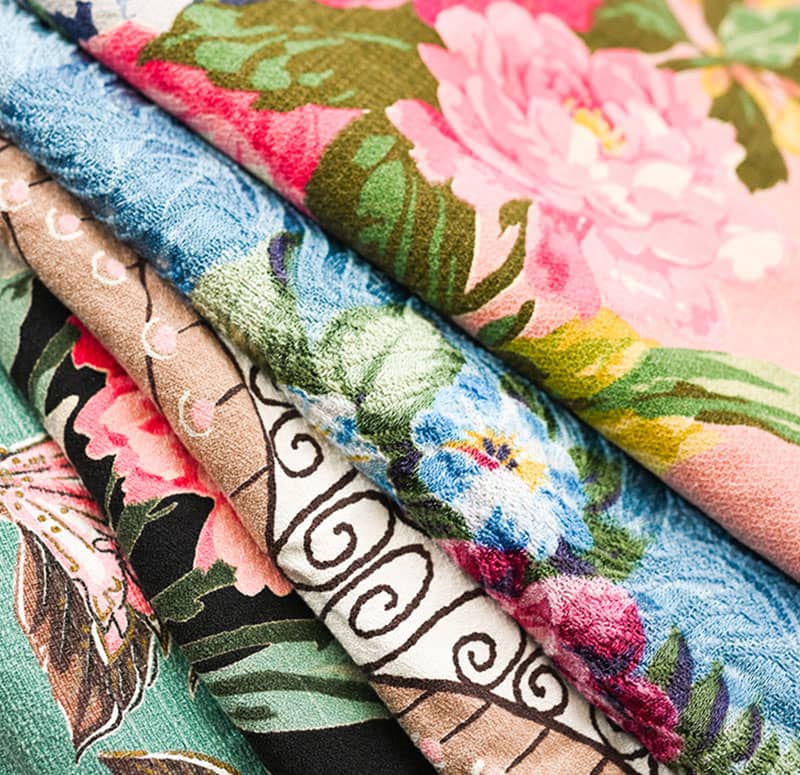 Vintage Barkcloth : Up-cycled, sustainable, authentic mid-century design fabrics that represent timeless Vintage elegance
SylvieBags embodies Sylvies finest designs, original mid-century fabrics and hand-made artisanship. 
Sylvie Farrington was born in Germany and trained in a traditional sewing and design program before emigrating to the US as a young adult and founding       " SylvieBags " in 1997.
All of Sylvies accessories are created from up-cycled rare barkcloth and fabrics from the 1930s to the 1960s. Barkcloth is made from densely woven cotton fibers and was often used for upholstery and curtain fabrics. Like tree bark, the material has a rough and nubby texture, providing strength and durability.  Sylvie finds Vintage Fabrics of many different qualities, but only purchases the ones in mint condition. This could be a pair of curtains that was made in the 1950's, but never hung, or only used for one season, and then stored for over 70 years. The fabrics are always machine washed and dried and tested for durability by Sylvie and her team, before going into production . Authentic barkcloth can sometimes be found at Estate sales, House auctions or Antique Shows, but the most beautiful and sought after designs are becoming close to extinct. This includes the iconic 1950's cocktail motif, most Western prints and designs that include animals, esp. birds and nautical and farm scene motifs. At SylvieBags, we know how much fun it is to complement your look with a one-of-a-kind handbag made from Vintage Barkcloth. Not only is every SylvieBag unique and beautifully made with a high focus on detail, but also designed to be functional and durable for your everyday lifestyle. By purchasing from SylvieBags, you will receive a high-end piece of vintage fiber art that is hand-crafted and exclusive to you.
Every SylvieBag tells a story
Be Rare. Be Unique. Be YOU.
DISCOVER YOUR MUST-HAVE-PIECE
Express your unique style with our ever-changing collection of Modern Vintage Accessories. Featuring hundreds of rare vintage textiles your SylvieBags acquisition will truly be one of a kind.
By buying a SylvieBags Accessory you are helping preserve the ancient art of sewing passed down through generations and championing independent women sewing from home to balance work and family and earning a fair compensation.
Feel good about upcycling existing vintage fabric and minimizing impact on Mother Earth by purchasing a leather-free, animal friendly and vegan SylvieBag.
Feel secure in the quality of your SylvieBags purchase. Each SylvieBags accessory comes with an one year warranty against any wear and tear.
We want you to fall in love with your SylvieBags for life. 25 years of Artisan Design and Fine Craftsmanship, hundreds of unique pieces of vintage textiles discovered at antique markets and vintage shows, 10.000 + SylvieBags circling the globe.